MOC-120H moisture analyzer
The moisture content of a variety of samples can be measured using an array of drying modes. The drying status can be seen at-a-glance with the fluctuation range display. Active in a variety of fields (cereals, starch, flour, noodles, brewed products, sea foods and marine products, meat products, spices, sweets, dairy products, dried foods, vegetable oils and other food articles; pharmaceuticals; ores; cokes; glass materials; cement; chemical fertilizers; pulp and paper; cotton; various fabrics and other industrial goods); enabling measurement of samples (cereals, foods, and chemical products) under various conditions (powder, particles, paste, and liquid).
Features
A large sample pan (130mm diameter) enables a large amount of sample to be placed evenly in a thin layer. This results in accurate and fast measurements with minimal drying non-uniformities.
A mid-wave infrared quartz heater provides effective drying without interference for a wide range of samples. In addition to the excellent drying performance, it offers a long operational life of 20,000 to 30,000 hours.
The internal precision weighing balance is engineered with a Shimadzu UniBloc cell. The mechanism provides excellent stability and a long operational life against repeated temperature changes, enabling easy measurements down to 0.001g.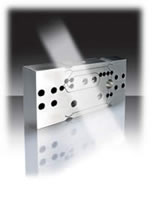 Moisture vaporization monitoring
The moisture vaporization rate is monitored and can be visually seen on a bar graph display. This is useful to know as the measurement nears completion. It updates every 30 seconds.
The MOC-120H is equipped with a unique auto-taring mechanism, which adjusts the zero drift automatically and ensures high accuracy, even when measuring during an extended period.
Specifications
| | |
| --- | --- |
| Model | MOC-120H |
| Measuring method | Infrared heat drying mass measurement |
| Sample pan size | Ø130 mm |
| Minimum display in weighing | 0.001g |
| Measurement range of moisture content | 0.01% to 100.00% |
| Moisture content minimum display | 0.01% |
| Maximum sample capacity | 120 g |
| Measurement mode | Automatic or Timed halting modes, Rapid, Slow and Step drying modes, Predictive Measuring mode |
| Drying heater | Mid-wave infrared quartz heater |
| Setting temperature range | 30°C to 180 °C (by 1°C increments) |
| Dimensions & weight | W220xD415xH190 (mm), 4.5 kg |
| Operational temperature and humidity range | range5°C to 40°C, 85% RH maximum |
| Power requirements | 100 V to 127 V/220 V to 240 V AC, 640 W maximum |
| Standard accessories | Sample pan 2 pcs, sample pan stop, windbreak case, sample pan, handler 2 pcs, aluminum sheet 20 pcs, spoon, spatula |