Portable weighing table
Anti-Vibration-Table
Portable Antibration-Platform for all kinds of balances and sensitive measurement instruments
Cushioning effective vibrations
For direct use on laboratory tables, workbenches and desktops
Easy to carry due to integrated grips
Fmax = 100 N
Reasonable and space-saving alternative compared with conventional weighing tables
Vibrations are one of the biggest problems in case of sensible, precision instruments. Nevertheless it is sometimes necessary to place such units on grounds, which are not optimized, because of some lack of space or due to efficiency or technical reasons.
The new developed anti-vibration platform AVITA is helpfully to solve these problems by:
Minimizing or eliminating vibration
Easy to carry and handle
Optimized platform size, suitable for most kinds of balances, microscopes, thermo analyzers and many more. But nevertheless compact enough to be used on casual desktops.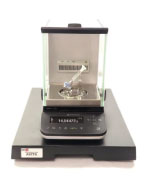 Technical data
(L x W x H): 550 x 380 x 63 mm
F max = 100 N
F max = Fdyn + Fg
Weight approx. 23,5 kg